Phyllis Fletcher is a regular guest on Too Beautiful To Live. She is Senior Editor at APM Podcasts and is a public radio fundraising expert, specializing in "the close." She met Luke at KUOW in 2003 and overlapped with him at NPR in 2006 when he was covering the Capitol and she was a reporting fellow on NPR's National Desk. Phyllis started listening to TBTL in 2014 after running into Luke at a public radio conference and pulling shots of Jameson with him on a bus full of program directors, and after appearing live with him on KUOW's Week In Review. (And also: after her colleague, Ten Jessica Robinson, said, "have you been listening to your friend's podcast? It's really good!") Phyllis was a reporter at KUOW when Andrew worked there and was a huge fan of The Andrew Walsh Show, which she listened to on her evening commute and watched at home on her phone via the KIRO web cams.
Phyllis' son conceived of the recognized nicknames for the Luke and Andrew plush dolls, "Bobo" and "Johnny."
Luke helped Phyllis produce her first radio story when she was a KUOW intern, about racism that happens on the phone.
Nicknames: Fletch, Fletch F. Fletch, The Wolf, P-Fletch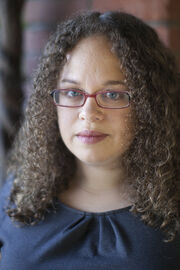 Community content is available under
CC-BY-SA
unless otherwise noted.